The Societa' Stereoscopica Italiana SSI-3D is proud to offer

Honorary Membership to Masuji Suto

for His past and present contributions to the Stereoscopy.


---
2009
Saturday the 8th and Sunday the 9th of August 2009 4th National Meeting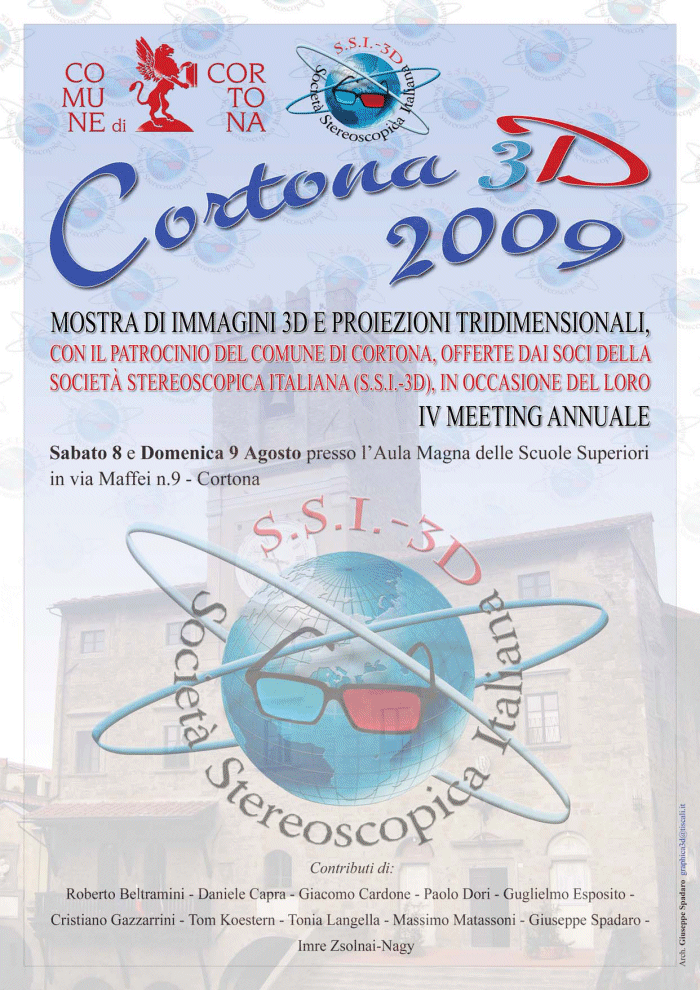 Download the program (italian)


Our club's 4th national meeting will take place in Cortona, Italy

onSaturday the 8th and Sunday the 9th of August 2009

at the AULA MAGNA of the High School in VIA MAFFEI 9

Exhibits from 10 AM to 1 PM and from 4 PM to 8 PM, both days

Public 3d projections from 9 PM to midnight, both days

Official languages: Italian, English.



Free entry

thanks to the City of Cortona, supporting and sponsoring the event



Cortona is a 3000-years old COOL, arftul small city on a Tuscan hill, so ifsomeone out there will be taking a vacation in Italy, here's a chance tomeet us


---
SOCIETY
We are about 20 stereo enthusiasts, scattered through Italy, Europe and the Americas, and we keep in touch through web facilities.
Our SocietÓ is a no-profit cultural association.
We usually communicate in Italian language, and anybody can join us, if she/he speaks Italian.
So if you can read and write Italian, and you want to learn more about us,
please go to the Italian site